V.A.T.S.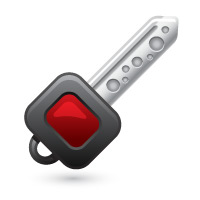 One of A Good Locksmith's specialties is making replacement keys compatible with the wide variety of vehicle anti-theft systems now utilized by auto manufacturers.
It was in 1986 that General Motors began to mount a resistor in its key blanks to confirm that the correct ignition key was being used to start the engine. Locksmiths were required to learn new techniques and purchase new equipment to keep up with the technological advances. A Good Locksmith owner Dave Fairbrother said that equipment now costs $1,500 to $5,000 to purchase—and replacing a key through a dealer can cost as much as $400 on some of the more expensive vehicles.
"It's become more and more complex," Fairbrother said. "At the same time, if it takes a key, I believe I can work on it."
Fairbrother was able to design an electronic system that allows him to open a locked car without ever touching that vehicle. His years of experience have allowed him, on many occasions, to cut a replacement key from simply looking at the original key dangling from the ignition or resting on the front seat.
"I've done dozens of keys for cars and semi-trucks in 5 minutes or less," Fairbrother said.
In fact, he is still on a quest to break his personal record.
"Dodge Intrepid … 2 minutes, 35 seconds," Fairbrother said with a smile.